The weekends are overrun with families, during the business week and varied clientele. In ship cabins, with a more nautical atmosphere this restaurant appeals to all based on excellent seafood fresh from the port.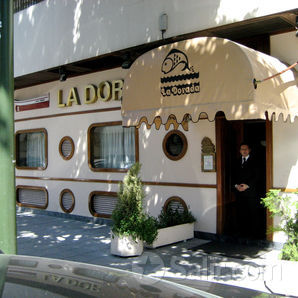 A classic of the fine Andalusian food on the coast. The selection of the quality of the raw material and its good treatment in the kitchen is something that only professionalism and good work of masters can successfully consummate.
If you order fish in salt or seafood will have the opportunity to taste an excellent raw material. The menu includes a wide range (grilled seafood boiled or grilled, rice and an extensive supply of fish …). In making recommendations is not easy. Here are some: the excellent frying Malaga, lobster salad, followed by sea bream as no salt, American hake with prawns, etc … There Andalusian specialties like the Rota Bream. For family: Grilled seafood.
And also be noted the concurrence of superb ice cream: mandarin, vanilla and some traditional desserts.
In Seville was born the headquarters of the establishment years ago, today still an outstanding reference point of the Andalusian capital. Restaurant La Dorada (Seville), Avenida Ramon and Cajal s/n Tel. 954 921 066. In short, an exponent of the excellent fish and seafood from the South of Spain, in moments in which 'eat fish' is associated with good nutrition.