Eating from the falls? Eating from the falls? A dream comes true, especially these days. Well, in the Philippines is reality.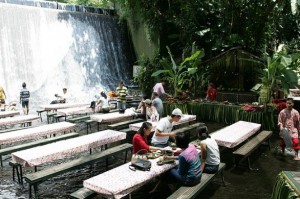 The restaurant is located in Villa Escudero, a coconut plantation and sugar cane since 1981 can also be visited by tourists with the opportunity to stay and dine in a setting very original. Tropical climate, natural gardens and, above all, falls directly within meters from you.
There is the option of dining at the tables placed right in the area adjacent to the waterfall, with water vapor in the atmosphere that you create that become the main ingredients and details. A stay is recommended by many tourists, to live entirely in first person.
Villa Escudero is only about ten kilometers from the capital, St. Paul, in the province of Laguna. There is also the opportunity to visit the 800 acres that make up this natural paradise.