The restaurant Il Gatto Nero is a quaint, pleasant and very romantic, with beautiful views of the hills surrounding the lake with its beautiful garden and terrace for summer eating.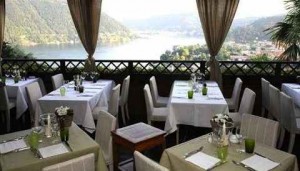 The excellent menu, from starters to dessert, really 'mouth-watering', with excellent food as refined, tasty, with good presentations and nothing to do with the micro portions of nouvelle cuisine. Very romantic atmosphere, even if not necessarily used as a candle-lit dinners, also ideal for a moment between friends. Breathtaking views, with the luck of being located next to the window. Veranda excellent for smokers, to give that pleasure in addition at the end of the meal.
The cuisine is classic, traditional, specializing in Lake Fish and game. The Il Gatto Nero Restaurant, located in Cernobbio, near Como, also has an excellent wine cellar with a selection of curated labels. It offers a total availability of 100 seats.
Address: Via Monte Santo Rovenna 69, Cernobbio (CO)
Phone: 031 512042