That awkward is to wash a pan full of fat, having to rub and rub until clean everything inside, and ended up tired, with sore arms, but forget about being strong rubbing several times as there are ways to remove fat very easily. What you can do is a mixture of vinegar and salt, just give it a rubbed with this mixture and see how clean your pan is.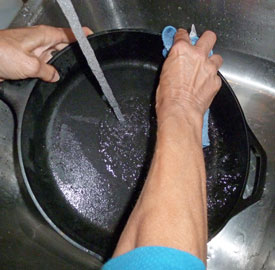 Another of the tricks is using coffee grounds, but if you hit part of fried food can do the following, barely finished using the pan full of water when you go to wash it put in the kitchen and do get the water to the boiling point, allowing it to boil for 5 minutes, remove the pan from the heat and remove the water.
You'll see the dirt that had already took it off, you just give it a wash stay you normally do to eliminate it completely finished and have a clean pan. You can also use baking soda, baking only combines with hot water, put your pan soak in this mixture to cool down and see all the fat gone.