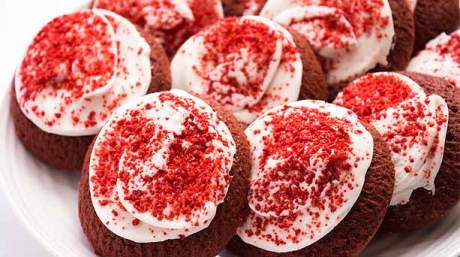 Ingredients (16 biscuits)
For the cookies
2¼ cups cake flour
3 tablespoons cocoa powder
2 teaspoons cornstarch
1½ teaspoons baking powder
½ teaspoon salt
½ cup butter
¼ cup shortening
1 cup granulated sugar
1 large egg
1 egg white
1½ teaspoons vanilla extract
1 teaspoon lemon juice
1 teaspoon red food coloring.
For the cream cheese frosting
113 grams cream cheese, softened
¼ cup butter, softened
¾ teaspoon vanilla extract
2½ cups powdered sugar.
Preparation
Combine cake flour, cocoa, corn flour, baking powder and salt until they are incorporated separates.
Beat butter, shortening and sugar until light and fluffy. Incorporates the egg and then the egg white, vanilla, lemon juice and the coloring.
Stir in dry ingredients and mix on low speed just until they are combined. Cover the bowl with plastic wrap and chill for 2 hours. Preheat oven at 190°C for the last 10 minutes of cooling.
Shape dough into balls and transferred to 3 tablespoons baking sheets covered with wax paper. Flatten the dough balls with greased hands.
Bake for 9-11 minutes. Remove from oven and let cool on baking sheet for 2 minutes and transfer to a rack to cool.
Allow to cool completely and smeared with cream cheese frosting.
For the cream cheese frosting
Beat cream cheese and butter until smooth and fluffy. Stir in vanilla extract and icing sugar and mix until everything is well combined.