Chicken is a meat that it offers the possibility of being cooked in an almost limitless variety of dishes, as well as being one of the cheapest meat in the market and be within the reach of almost any pocket.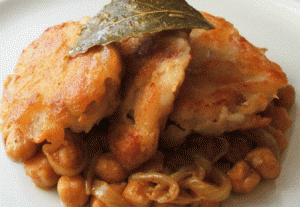 The recipe we are introducing today is the chicken to the Moroccan style, a recipe that will surprise your guests while adding an exotic touch to your kitchen. Yes, be warned that you must have a somewhat resistant palate to spicy.
Ingredients:
For the chutney
• 2-3 large cloves garlic, peeled and cut into small pieces
• 2-3 teaspoons of paprika
• 2-3 teaspoons of turmeric or saffron in twig or grains
• 1 teaspoon cumin seeds
• A dash of olive oil
• Pinch of salt.
For chicken
• 6 chicken thighs with bone and skin preferably
• 2 onions, peeled and chopped
• 1 lemon, cut in half and then into thin strips
• A dash of olive oil
• A pinch of saffron sticks
• A few pitted green olives
• A pinch of fresh cilantro chopped into very small pieces.
Preparation:
1. To prepare the sauce, crush the garlic cloves and salt in a mortar.
2. Add the paprika, turmeric and cumin seeds until it becomes a thick paste.
3. Add a little olive oil to the paste is slightly thinner.
4. Place chicken thighs in a deep bowl and pour the sauce over it until all the meat is covered. Cover it all with a little cooking transparent paper and place it in the fridge, if possible during the night, so meat absorb the flavor of the sauce.
5. Heat a little olive oil in a pan and cooking the onion, which has previously bitten.
6. Add the chicken thighs and cook on both sides. Add the lemon slices and pour some water to cover half of the chicken.
7. Stir well and cover with a lid and let cook for 25 minutes until chicken is tender and well cooked.
8. Add cumin, olives and fresh.
Serve the chicken in a clay pot with rice or couscous, vegetables or potatoes.