A delicious variation of traditional Peruvian kebabs, this time with a fish that fits better on the grill, the "tuna" and an oriental touch.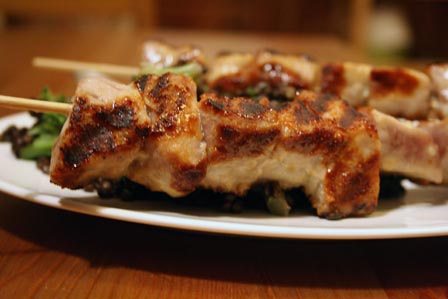 Ingredients
500 grams tuna pieces
1 bell pepper cut into pieces
Oil
Salt and pepper
3/4 cup sugar
1 tablespoon soy sauce
2 tablespoon vinegar
Kebabs sticks.
Information
Servings: 2
Preparation: 20 min
Cooking: 15 minutes
Total time: 35 min
Difficulty: Intermediate
Season: All year
Calorie level: Low
Place of preparation: On the grill
Country: Peru
Preparation
Cut the tuna into pieces (approximately 4cm x 4cm). Reserve.
In a bowl mix the sugar, vinegar, salt, pepper, a drizzle of olive oil and soy sauce.
Marinate the tuna pieces in this mixture. 2 hours.
Stringing in kebab sticks the pieces of tuna with pepper pieces. 3 pieces of tuna and 3 pepper per stick.
Cooking the on the grill tuna kebabs (approximately 2 minutes per side).
You can also include onion pieces or chinese onion in preparation.
You must be very careful when frying tuna kebabs on the grill, since this meat is quite delicate.
Serve with cooked potatoes, cooked corn and chili sauce or some oriental sauce.