Pizza is a very versatile and very "versionable" dish. This time we bring you a very simple version with a base made of noodles.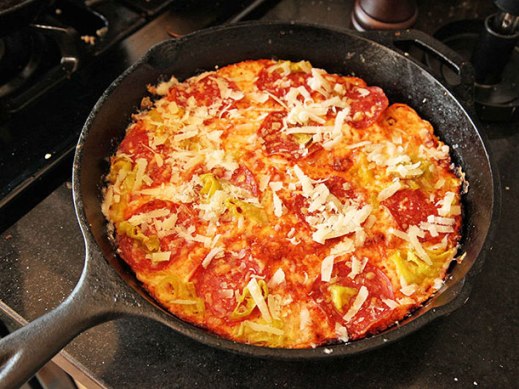 Ingredients
300 grams cooked noodles
5 tomatoes
1 cup grated mozzarella (150 grams)
Olive oil
Salt
Oregano to taste
100 grams ham
1 tablespoon butter
Information
Servings: 4
Preparation: 35 min
Cooking: 25 min
Total time: 69 min
Difficulty: Intermediate
Season: All year round
Caloric level: Medium
Place of preparation: Baked
Preparation
Cook the tomatoes (5 minutes once break in boil), once ready to peel, cut, remove the seeds and puree with a fork. To season, to reserve.
Butter a round pan.
Pour the cooked noodles into the mold, making a sort of base with them.
Aided with a spoon, pour the ketchup, sprinkle the grated mozzarella and place the ham.
Pour a generous stream of olive oil, sprinkle salt and oregano to taste.
Bake 20 to 25 minutes over medium heat (160 degree).
Remove from the oven, let cool for 5 minutes and unmold onto a round dish.
You can use any pasta for this recipe, but we recommend spaghetti or noodles.
As a pizza you can add ingredients of your choice and make your own recipe. (Olives, tomatoes, slices, basil leaves, salami, mushrooms, bacon, pepperoni, peppers, onion etc.).