This ceviche is a perfect recipe for people who take care for their sodium intake fats, it is also very easy to prepare…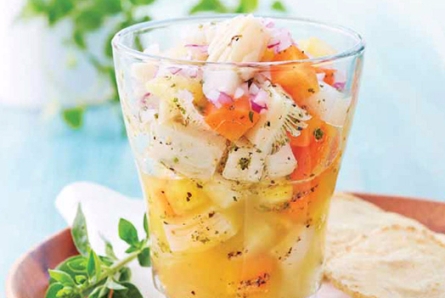 Ingredients:
1/4 red onion, finely chopped
1 tablespoon chopped cilantro
200gm mushrooms cut into medium cubes
1 cup pineapple cut into small cubes
1 cup jicama cut into small cubes
1 carrot, cut into small cubes

2 lemon juice
1 orange juice
1 tablespoon olive oil
1 pinch of oregano
Salt and ground black pepper, to taste
4 baked toast.
Preparation:
First, mix in a bowl the onion, cilantro, mushrooms, pineapple, jícama and carrot.
Add the lemon juice and orange juice, olive oil, oregano, salt and pepper to taste. Mix and leave to marinate for 15 minutes.
Serve ceviche in glasses and accompany with baked toast.
As you can see, it is super easy and delicious!, Do you dare to prepare?