Spicy Thai dish that mixes very well pork with mint, cilantro and toasted rice.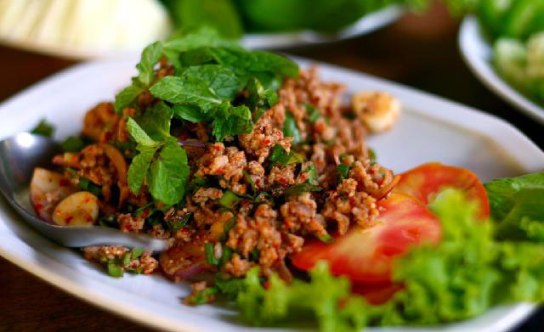 Information
Servings: 2
Preparation: 27 min
Cooking: 2 min
Total time: 25 min
Difficulty: Intermediate
Season: All year
Place of preparation: In the kitchen
Country: Indonesia.
Ingredients
350 grams minced pork
1 cup water
1/4 cup chopped scallions
2 tablespoons chopped cilantro
2 tablespoons chopped mint leaves
3 tablespoons lime juice
1 tablespoon sugar
1 tablespoon chili powder
2 tablespoons fish sauce
1 tablespoon ground roasted rice
Mint leaves for garnish.
Preparation
In a pot or kettle boil boiling water over medium heat.
Once the water is boiling add the minced pork and cook for 2 minutes or until the meat is cooked. Then remove, drain, reserve and leave to cool.
Already cold meat placed in a big bowl and add the chopped onion, chopped mint leaves, chopped cilantro and stir.
Season with lime juice, fish sauce, sugar, chili powder and ground roasted rice. Mix well.
To serve, garnish with mint leaves.
This dish is usually served with cucumber and glutinous rice.