The star of all picnics that boasts is the salad. It is a fundamental component in all healthy meal and outdoors. But if you are tired of the typical salads today you are in luck. We will give you a recipe full of flavor and nothing traditional ingredients.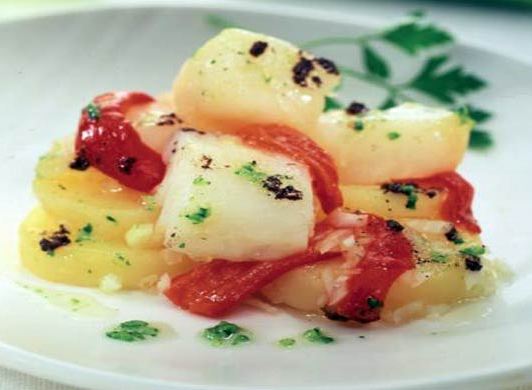 Ingredients for 4 people:
400 gr. flaked cod
200 gr. roasted pepper
1 dose chopped garlic
1 dose chopped parsley
500 gr. potatoes
150 gr. spring onion
Olive oil
Salt
Pepper.
Preparation:
Clean and boil the potatoes in their skins in salted water and when cooked let cool. Then peel them and cut them into slices.
Add garlic and parsley oil and mix with cod. Shake it well so that the fish absorbs the flavored oil.
Place peeled and cut peppers into strips and add to the potatoes and peeled and chopped onion.
Put the cod on top, and season the salad and decorate it with olivada.