A delicious dish from the north of Peru.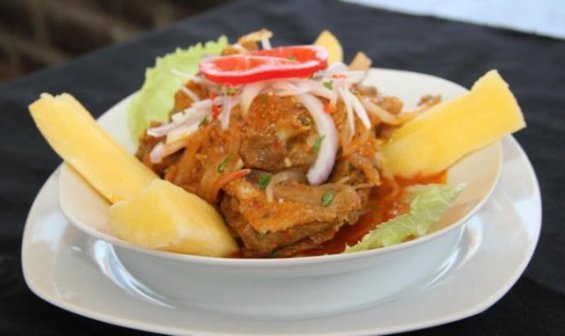 Information
Servings: 8
Preparation: 30 min
Cooking: 40 min
Total Time: 70 min
Difficulty: Intermediate
Season: All year round
Caloric level: Medium
Ingredients
1 clean and chopped duck
1 cup orange juice
3 tablespoons ground garlic
2 chili peppers chopped
2 tablespoons chopped mirasol chile peppers
Salt and pepper to taste
3 large onions cut into feather
Cumin to taste
1 kilo cooked cassava
Oil
Capsicum pubescens (optional)
Lettuce leaves.
Preparation
In a large bowl place the chopped duck.
Mix chopped peppers (mirasol and chili), ground garlic, orange juice, salt, pepper and cumin. Stir and add to the duck.
Macerate the duck with seasoning for at least 2 hours. (Ideal is to macerate from the day before).
In an oil pan heat oil.
Once hot brown the duck on both sides.
Once the duck golden add the onions and the juice of the maceration.
Cover and simmer for 15 minutes.
Serve next to the capsicum pubescens and garnish with a lettuce leaves.
You can also accompany with white rice.
Preferably use sour orange.