If there is an indispensable dish in any table during the hot days of summer this is a good salad.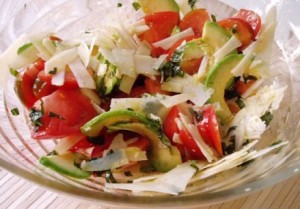 The salads are the star dishes during the months of summer. Besides being the ideal accompaniment to meats and fish, salads it can also become the perfect lunch or light dinner. One of the strengths of the salads that support many versions, being one of the dishes more recommended experiencing our culinary skills.
The following salad provides a delicate touch of summer by combining avocado with olives, cheese and baked tomatoes.
Ingredients for 6 people:
1 kilo of chopped tomatoes
6 cloves garlic, peeled and cut into thin slices
1 or 2 tbsp olive oil, preferably extra-virgin
375 grams of green beans peeled and cut
1/3 cup green or black olives, preferably boneless
2 avocados, cut into chunks
100 grams of cheese, preferably feta
1/2 cup small basil leaves
A pinch of salt and ground black pepper.
Preparation:
Pre-heat the oven to a temperature of 200 ° C. In a baking tray, place some aluminum foil to prevent sticking. Mix the chopped tomatoes, garlic, two tablespoons of olive oil and a pinch of salt and pepper and place the tray in the oven for 35 minutes or until tomatoes are tender.
Then, remove the pan from the oven and let cool for 20 minutes.
While tomatoes are baking, put some water to boil with a pinch of salt. When the water reaches its boiling point, enter the green beans for three minutes or until tender. Drain and cool it with cold water.
Add the green beans to the already cold tomatoes and add the olives, feta cheese, avocado and basil.
Spice everything with a little olive oil, salt and pepper.
You can also add a few croutons or sesame seeds. Serve by it or served with grilled chicken to maintaining the healthy recipe.