Original raspberry tarts combined with the interesting flavor of goat cheese that gives them a unique touch…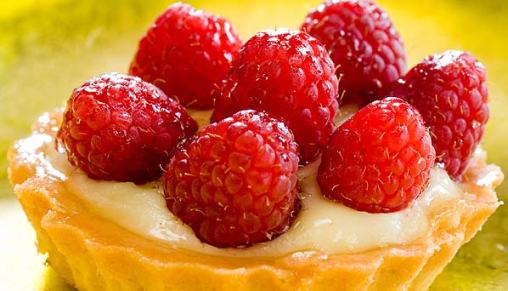 Ingredients (6 servings)
For the base
2 cups almond flour
2 teaspoons butter
1 egg
Pinch of salt.
For the filling
170 grams of goat cheese
1/3 cup plain yogurt
1 egg
¼ cup honey.
For the cover
Preparation
Preheat oven to 176° C.
In a food processor combines all base ingredients and pressed until it forms a ball of dough.
Spread the dough evenly among 6 tart pans and pressed using fingers so that the dough to completely cover the bottom of each mold.
Bake for 8-12 minutes or until lightly browned. Remove from oven and let cool.
In a food processor add the filling ingredients. Process until all ingredients are combined and mixture is smooth.
Pour the filling over each tart base.
Bake for 20-25 minutes. The filling will start to rise and brown.
Remove from oven and let cool.
Covers each tart with a handful of raspberries and drizzle with honey.
Serve.