That the eel and the octopus is one of the great delights of the sea that has to offer us is no secret. But if we want our dishes with these two delicacies acquire the prestige its deserve not miss the opportunity to learn how to cook this eel strudel with octopus, with which all our guests will be amazed by the intensity of flavors and excellent presentation.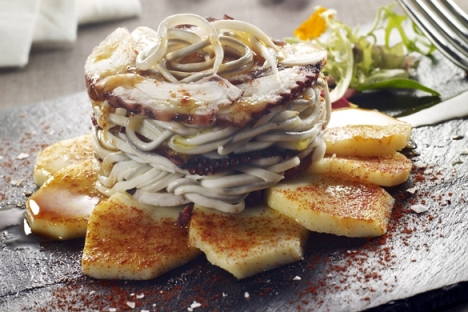 It is also very simple to prepare, so we have no excuse to get it to work.
Ingredients
Eel
Octopus
Boiled potato
Olive oil
Garlic
Sherry Vinegar
Bittersweet paprika
Salt
Maldon Salt.
Preparation
Chopped boiled potato and set it in the form of a flower in a dish.
Cut the octopus into thin slices, saute with a little olive oil and store it for later.
In another pan, saute the eel with garlic.
Build a strudel with slices of octopus and eel within the flower of boiled potatoes that you've prepared.
Prepare a vinaigrette with olive oil, sherry vinegar and seasoned salt and strudel.
Sprinkle with a little paprika and sour and add some Maldon salt and little oil.