Delicious combination that elevates the taste of salmon by giving it a salty touch with pistachios, accompanied by delicious creamy lemon sauce.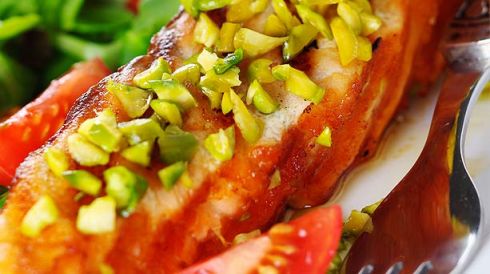 Ingredients (2 servings)
For salmon
¼ cup chopped pistachios
½ teaspoon salt
½ teaspoon black pepper
2 salmon fillet
2 tablespoons extra virgin olive oil
1 teaspoon garlic, chopped

For creamy lemon sauce
1 tablespoon butter
1 tablespoon flour
½ cup chicken broth
¼ cup whipping cream
2 teaspoons lemon zest
1/8 teaspoon fresh lemon juice
½ teaspoon salt
1/8 teaspoon ground white pepper.
Preparation
For salmon
In a shallow dish combine the pistachios, salt and pepper. Cover the salmon with mixture and press gently so that it is pasted.
In a small pan, heat oil and garlic over medium heat. Add the salmon and heat until golden, 2 to 3 minutes. Reduce the temperature a bit, turn the salmon and heat until smooth, about 2-3 minutes.
Transfer the steaks to plates. Serve with creamy lemon sauce and garnish with additional pistachios.
For the cream sauce
In a small saucepan melt butter over medium-high heat.
Add flour and mix slightly to combine, heat for 2 minutes.
Reduce heat to medium, add the chicken broth and cream and bring to a boil at a low temperature until thickened, stirring frequently for about 3 minutes.
Serve with salmon.