A light citrus flavor and all the benefits of vitamin C are the perfect companion for pasta with lemon shrimp.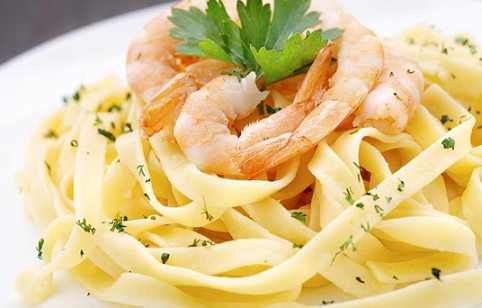 Ingredients (4 servings):
6 garlic cloves, grated
Zest and 2 lemons juice
5 tablespoons olive oil
1 teaspoon dried pepper
Salt and pepper, to taste
21 to 25 peeled shrimp, cut butterfly (save the shells)
¼ onion
340 grams pasta
2 tablespoons butter
1 small bunch of parsley, chopped.
Preparation:
In a bowl combine the garlic, zest and 1 lemon juice, olive oil, dried pepper, salt and pepper, and shrimp. Let stand.
In a small saucepan to medium heat warms the shrimp shells and onion. Cover with water and bring to a boil. Lower the temperature and simmer for 20 minutes. Strain into a bowl and discard the shells and onion.
Boil a large pot of water at high temperature and add a generous amount of salt. Add the pasta and heat until smooth, 2 minutes less than the package says. Drain and spread ½ cup of water.
Heat a skillet over high heat. Remove the shrimp from the marinade, separates marinade and add the shrimp to the skillet. Cook until it becomes pink and begin to caramelize, about 3 minutes.
Remove shrimp from pan and place them on a plate. Pour the marinade into the pan and heat for a few minutes before adding 1 cup of broth from prepared shrimp and ½ cup of the pasta water.
Continue cooking until the sauce has reduced by half. Add zest and remaining lemon juice, butter and parsley and stir to combine. Add salt and pepper to taste.
Stir in shrimp and pasta and stir to combine with sauce.
Serve immediately.