For those days when you just want a comforting hot soup not misses this delicious recipe…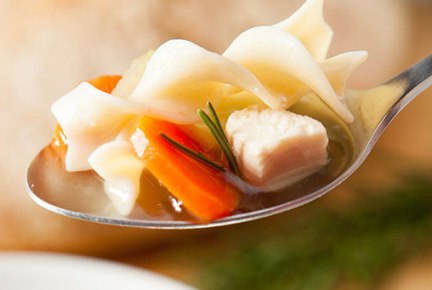 Ingredients
1 chicken, roasted
2.5L chicken stock
2 cups carrots, chopped
2 cups celery, chopped
2 yellow onions, chopped
600 grams noodles
2 teaspoons black pepper
1¼ teaspoons salt
Optional: minced garlic, rosemary, thyme and parsley
Preparation:
Shred the roasted chicken.
Fill a large pot with chicken broth. Add roasted chicken bones and a little thyme. Let simmer for 1 hour and a half, removing excess fat with a small strainer.
Pass the soup through a super fine sieve to remove the bones and thyme. Return the soup to the pot.
Add the carrots, celery and onion. Let simmer and heat for 20 minutes.
In another pot prepare pasta according to package directions. Drain and rinse with cold water.
Add the shredded chicken to the pan, season with salt and pepper, and heat over low heat for 2 hours. Add pasta 15 minutes before serving.
Serve hot.