Ingredients to prepare the Oriental Chicken with Vegetables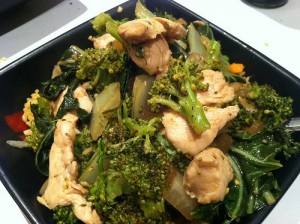 2 chicken breasts cut into cubes
1 floret of broccoli
1 green pepper
2 cups sliced ​​celery
½ sliced onion
2 tablespoons olive oil
Salt and pepper to taste
6 tablespoons sauce soy
1 clove of minced garlic
1 cup bean sprouts.
Preparation
In a frying pan saute the chicken with oil, salt, pepper and garlic. When cooked turn off the heat.
In a saucepan place the oil, onion, celery, bell pepper and broccoli into pieces, add salt, pepper and soy and cook for three minutes, turn on the heat and add the chicken.
This dish is great by itself as it contains all the nutrients and food groups. You can accompany with pasta or rice.