Eggs are a natural source of protein, so it is recommended to eat a few times a week. Being so versatile, you can cook almost any dish. For example, making omelet with vegetables.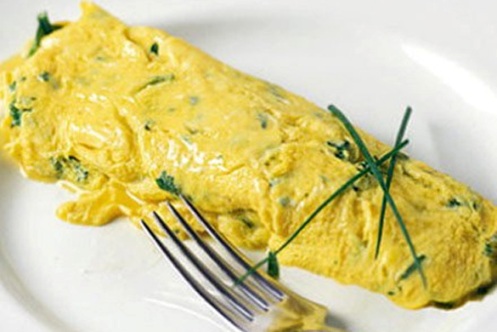 Ingredients:
1 whole egg
1 teaspoon vegetable oil
1/4 teaspoon black pepper
1/2 cup diced courgettes (also known as zucchini)
2/3 cup whole corn (does not matter whether canned or fresh)
3 egg whites
2 tablespoons smoked gouda cheese (shredded)
2 tablespoons water
3 tablespoons finely sliced green onion
Little salt.
Preparation:
First of all put to heat a little oil in a pan over medium heat.
Add corn, zucchini and a pinch of salt.
Saute until vegetables are crispy on the outside and tender on the inside (4 minutes) and remove from heat.
In a bowl mix 1/8 teaspoon salt, water, pepper, egg whites and whole egg.
Add them to a pan with hot oil and cook until they begin to gel (2 minutes approx.)
With carefully, lift the sides of the omelet. Let the egg mixture reaches to the pan.
Add vegetable mixture over half of the omelet and sprinkle with cheese.
Cover carefully at the edge of the omelet which has the vegetables with the other half which have nothing.
Cooks the entire mixture until melted cheese.
Now you just have to remove it from the heat and serve on a plate.
You'll have magnificent vegetable omelet, rich in protein and with only 281 calories, which can be served for lunch and dinner.