A rich garrison ideal to accompany favorite dishes. It has a delicious and intense flavor and it is super light and healthy!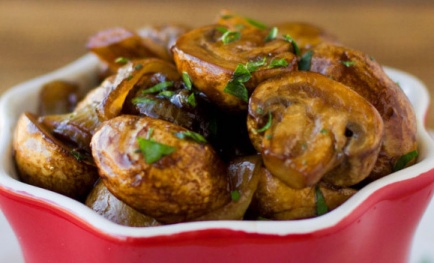 What do you need?
Makes 4 servings:
2 tablespoons olive oil
500g mushrooms type button, halved
1/2 onion, sliced
1/2 teaspoon salt
2 tablespoons balsamic vinegar.
Prepare it
In a medium skillet heat oil over medium-high heat until it begins to sizzle.
Add mushrooms and onions, sprinkle with salt and stir well.
Lower heat to medium, cover and continue to heat until mushrooms release liquid and for 5-7 minutes. Remove the lid and continue to heat until the liquid has evaporated and the mushrooms and onions have softened and golden, 3 to 5 minutes.
Add the balsamic vinegar and stir until everything is well coated.
Serve.