This delicious pizza will be the special guest with all your guests. The exquisite combination of flavors will delight all your friends. Try it!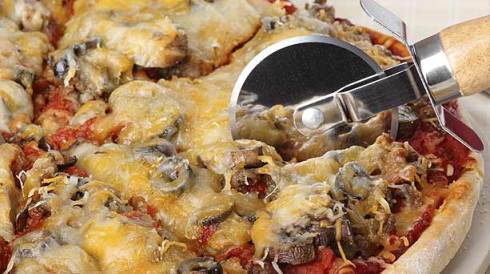 Ingredients (1 pizza 30 cm. Diameter)
For mass
½ cup hot water
2¼ teaspoons instant yeast
1¼ cups water, at room temperature
2 tablespoons olive oil
4 cups bread flour (can substitute regular flour)
1½ teaspoons salt.
To cover
1 tablespoon butter
500 grams of mushrooms type crimes, sliced
¼ red onion, thin sliced
1 cup pesto sauce
226 grams Provolone cheese, grated
½ cup Parmesan cheese, grated.
Preparation
For mass
Pour the hot water in a liquid measuring cup with capacity for 2 cups. Sprinkle the yeast and wait until it dissolves and increase in size, about 5 minutes. Adding water at room temperature, oil and mix.
Stir flour and salt in a large food processor, pulsing to combine. Continue to hold while you incorporate the liquid ingredients until it forms a ball. Process until the dough is smooth and elastic, about 30 seconds.
Arrange the dough on a clean, flat and floured. Knead by hand to form a smooth, round ball. Put the ball in a greased bowl and cover with plastic. Let the dough double in size during 1-2 hours. Flatten the dough to deflate.
Assemble the pizza
Preheat oven to 260° C for at least 30 minutes.
Prepare the mushrooms and onions. In a skillet melt the butter over medium heat and add the mushrooms and onions. Heat, stirring occasionally with a wooden spoon, you have the mushrooms have released all the liquid and both mushrooms and onions are soft and golden, 10 to 15 minutes.
Arrange the dough on a clean, flat, lightly floured. Divide the dough into 2 portions. With each serving make a smooth round ball and cover with a damp towel. Allow the dough to rest between 10 and 30 minutes. Take only one of the portions, so the other can store it in a resealable plastic bag in the freezer.
Flatten dough ball into a disk using the palms of your hands. Start in the center and continues to the edges, using the tips of your fingers to press the dough until 1.2 cm. wide. Stopping the center in its place, bake the dough outwards. Turn the dough as you go stretching. Repeat until the circle of dough is 30 cm. in diameter. Use the palm of your hand to crush the thick edge of the dough. Arrange the dough on a baking sheet covered with wax paper or mold for pizza.
Spread pesto sauce over the pizza dough, leaving the shore uncovered. Spread the mushroom mixture and onions over the sauce and top with provolone cheese and Parmesan cheese. Accommodates the mold inside the furnace.
Bake until edges are golden brown and cheese also in parts, for 8-12 minutes. Remove from oven, cut into slices and serve hot.