The Murmuri Restaurant of Barcelona offers one of the best gastronomic offers Asian-Mediterranean fusion of the old city, with a selection of original and delicious dishes.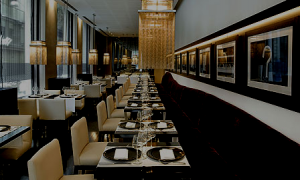 Located on Rambla Catalunya, in the center of Barcelona, is an option
highly recommended for lunch, have a lunch menu for only 16.00 euros, with starter, main course and dessert, water, wine and coffee included; and as for dinner, with the evening menu, Sunday through Thursday, from 18. Of course, with a menu to be found in some of the most succulent thai dishes, giving options for all tastes and budgets.
Among its delights
Gastronomic highlights the succulent chicken with coconut dressing and crispy rice, as well as tuna tataki tuna with garlic chips and juice of chili and lime. The menu also includes delicious entrees
as the assortment of Sashimi and Makis and chicken soup/coco.
Among the main courses include grilled turbot with tamarind sauce, shitake and Thai basil, and confidentiality grilled with curry "panang" and the duck breast with "bock choi" and tamarind sauce. For desserts there are very special dishes such as the banana spring roll and custard of jasmine flower with ice cream of jasmine rice.
In addition, the restaurant is attached Ivory bar by Murmuri, decorated by the British interior designer Kelly Hoppen, who has recreated an atmosphere that combines with great art elegance and modernity. The relaxing music, and variety of cocktails – Over 40 – make it the perfect place for post dinner drinks. Smokers are also in luck, because its terrace is open throughout the year.