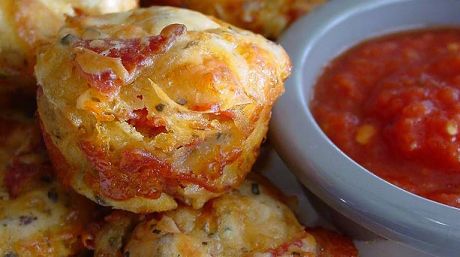 Ingredients (24 mini pizzas)
¾ cup flour
¾ teaspoon baking powder
1 tablespoon Italian seasoning
1 pinch salt
¾ cup whole milk
1 egg, lightly beaten
1 cup mozzarella cheese, grated
¼ cup parmesan cheese, grated
1 cup pepperoni, diced
½ cup tomato sauce.
Preparation
Preheat oven to 190ºC. Grease a baking for 24 mini-muffins.
In a large bowl combine flour, baking powder, Italian seasoning and salt. Stir in milk and egg. Add the mozzarella cheese, Parmesan cheese and pepperoni. Let sit for 10 minutes.
Whisk the mixture well and divide among the 24 mini-muffins. Bake until golden and fluffy, 20 to 25 minutes.
Heat in the microwave or in a pot on the stove the tomato sauce until it is very hot.
Serves the muffins with the tomato sauce to accompany.
Tips: You can use a mold for 12 regular sized muffins, try it!