The chili is one of the traditional dishes of the increasingly popular Mexican cuisine. This is a recipe full of flavor and color and sometimes, only suitable for those with a very strong taste.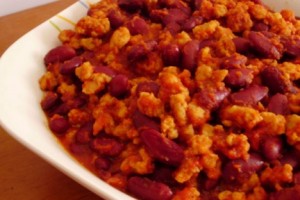 There are different versions of chili, and thus we can find milder variants in regard to the spicy. The version we are introducing today is the "free" of meat, ideal for vegetarians or for anyone who wants to try this recipe with a touch a somewhat different.
Ingredients for 8 people:
• 1 can of pinto beans
• 1 can of baked beans or black beans
• 1 can of garbanzo beans (lentils may be substituted)
• 1 can of vegetarian beans
• 1 can of tomato puree
• 1 can of corn
• 1 onion, finely sliced
• 1 green pepper, cut into small pieces
• 2 zucchini, cut into small pieces
• 2 celery sticks, cut into pieces
• 2 garlic cloves, finely chopped
• 1 small can of chili peppers into small cubes
• 1-2 jalapeno, cut into small pieces (the amount of jalapenos to add depends on individual taste and spiciness desired)
• 1 teaspoon of parsley
• 2 teaspoons of cumin
• 1 teaspoon of oregano
• 1 teaspoon of chili powder
• 1 teaspoon of coriander
• 1 teaspoon dried basil.
Preparation:
Cut all ingredients into very small pieces.
Place the onion, green pepper, zucchini and celery in a pan with a little olive oil and cook for about five minutes.
In a saucepan, add the beans, garbanzo, tomatoes, corn, onions, peppers, jalapenos, zucchini, chili and celery.
Add garlic, chili powder, parsley, cumin, oregano and basil and cook over very low heat for about 3 to 4 hours.
Serve with tortillas, nachos or rice and enjoy vegetarian chili.