Light flavorful recipe ideal for lunch or dinner that combines exquisite oriental scents a very low calorie dish.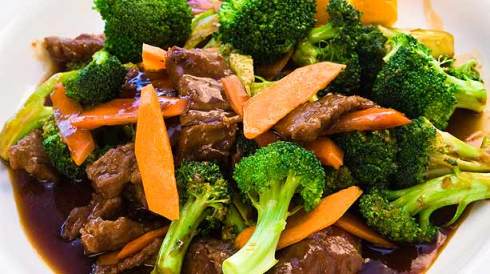 Ingredients
(3 servings)
2 ½ tablespoons cornstarch, divided
¼ teaspoon salt
¼ teaspoon ground pepper
340 grams of lean beef sirloin, sliced ​​thin
2 teaspoons canola oil
170 grams of white button-type mushrooms, sliced
½ cup beef broth, divided
5 cups broccoli florets
½ cup ginger root, fresh, crushed
2 teaspoons garlic, minced
¼ teaspoon garlic and chili thai sauce
¼ cup water
¼ cup soy sauce.
Preparation
In a bowl combine 2 tablespoons cornstarch, salt and pepper. Add the meat and cover well with the mixture.
Heat oil in a wok or large skillet over medium-high heat.
Add meat and fry until lightly browned and cooked through, about 4 minutes. Transfer to a bowl with a slotted spoon.
Add ½ cup of broth to the pan. Stir in broccoli, cover and heat, basting with 1 tablespoon of water if necessary, until broccoli is crisp and smooth, about 3 minutes.
Stir in mushrooms, covered and heated, stirring occasionally.
Uncover the pan. Add the ginger and garlic. Stir-fry for 1 minutes.
Mixture in a cup water, Thai sauce, soy sauce, ½ cup beef broth and ½ tablespoon cornstarch until everything is well combined, add to the pan.
Lower the temperature to medium-low and let simmer until slightly thickened, about 1 minute.
Returns meat and accumulated juices to the pan, stir well.
Serve with rice.