Rich vegetarian lasagna made with a filling of spinach with Ricotta cheese and a little nutmeg for exceptional taste.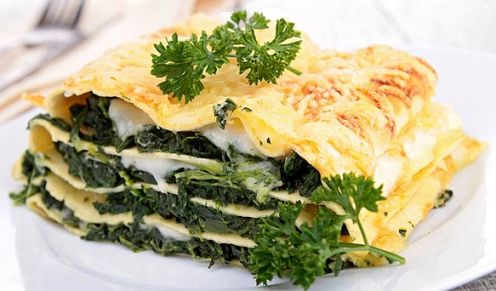 What do you need?
For 12 servings:
2 tablespoons butter
1 tablespoon garlic, minced
2 teaspoons fresh thyme, crushed
170 grams spinach, fresh
1kg Ricotta cheese, lowfat
1 egg
½ teaspoon salt
¼ teaspoon nutmeg
Lemon juice, to taste (optional)
12 layer lasagne
650 grams tomato sauce or marinara sauce
2 cups Mozzarella cheese, grated.
Preparation:
Melt butter in a large skillet over medium heat. Add garlic and thyme, saute for 2-3 minutes. Add spinach and saute just until they have wilted, about 2 minutes. Remove the pan from the heat.
In a large bowl combine the ricotta cheese, egg, salt, nutmeg and a touch of lemon juice. Add the spinach and stir to combine.
Preheat oven to 190° C. Spread a little of the tomato sauce in the bottom of a pan of 22 x 33 cm. Add a layer of lasagna, 1/3 of the spinach mixture, ¼ tomato sauce and ¼ of the cheese. Repeat and pour ½ cup of water on the two layers. Repeat once more, ending with lasagna, sauce and Mozzarella cheese. Pour ½ cup of water over the mold and cover well with greased foil.
Bake 30 to 40 minutes. When the liquid begins to bubble and the pasta has softened remove the foil and bake uncovered for 10 minutes.
Let stand 10 to 15 minutes before serving.