The sweet pear flavor contrasts with the intense flavor of the gorgonzola cheese in a light pizza without equal.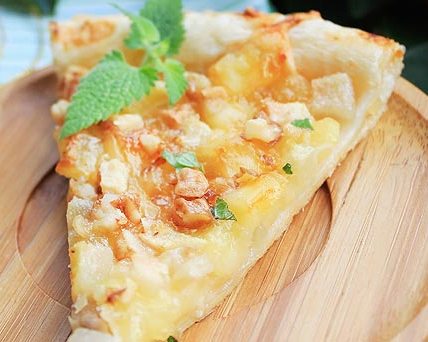 Ingredients (6 servings)
3 teaspoons olive oil, divided
2 ripe pears, thinly sliced
1 medium yellow onion, thinly sliced
4 integral pita breads
½ teaspoon sea salt
½ cup walnuts, chopped
½ cup gorgonzola cheese, in Moron
½ cup basil leaves, finely sliced.
Preparation
Heat 2 teaspoons olive oil in a large skillet over medium heat. Add pears and onion and heat, stirring occasionally for 3-4 minutes or until pears are golden brown and juicy. Turn off the heat and separates.
Preheat a grill to medium-high heat. Handle the pitas on both sides until they are grill marks.
Transfer to a plate and smeared with the remaining olive oil, sprinkle with salt.
Covers with onion mixture and pear, nuts, cheese and basil.
Serve hot.