Are you on a diet? Do not worry! You can still enjoy a rich dessert like the light version of this cherry cheesecake…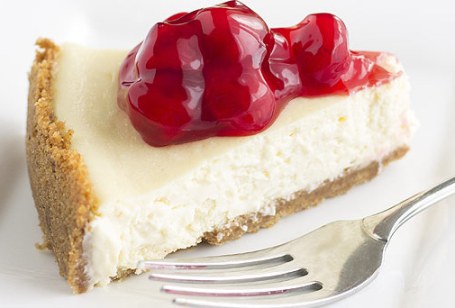 What do you need?
8 graham cookies of 5 x 12 cm
1 tablespoon vegetable oil
3 cups of cottage cheese, lowfat
226 grams of low fat cream cheese, at room temperature
¾ cup + 2 tablespoons sugar, divided
½ cup low-fat sour cream
4 large eggs
2 tablespoons flour
1 teaspoon vanilla extract
½ teaspoon salt grain
2 bags (340 grams each) frozen cherries.
Preparation:
Preheat oven to 162° C, accommodating a grid at the bottom of it. Grease the sides and bottom of a pan with removable base of 22 cm. Separates.
In a food processor pressed graham crackers until very fine crumbles form. Add 1 tablespoon of vegetable oil and pressed until crumbles remain wet. Press the crumbles firmly in bottom of pan with removable base. Put the pan on a baking sheet and bake for 15 minutes or until crust is lightly browned.
While baking, combine the cream cheese and cottage cheese with an electric mixer. Beat until mixture is smooth and glossy, about 4 or 5 minutes. Includes ¾ cup sugar, sour cream, eggs, vanilla, flour and salt. Mix until everything is smooth.
Pour the mixture into the base and baked. Bake for 1 hour or until cake has curdled in the center. Turn off the oven and let the cake cool (without removing it from the oven) for 1 hour. Transfer to a wire rack and let cool completely, about 2 hours.
While the cake is baking combines cherries frozen with 2 tablespoons sugar in a medium saucepan. Boil until the liquid is thick and syrupy, 10 to 15 minutes. Let the mixture cool and transfer to a bowl. Cover and refrigerate for at least 2 hours.
To serve removes the removable base of the mold, and transfer to a platter and served covered with cherry mixture.
Tip. You can prepare this cake complete with sauce until 2 days before serving. Just remember to refrigerate the cake sauce separately.