Convert the savory light cheese souffle in a recipe is not difficult. A little time and the recipe are the keys to success.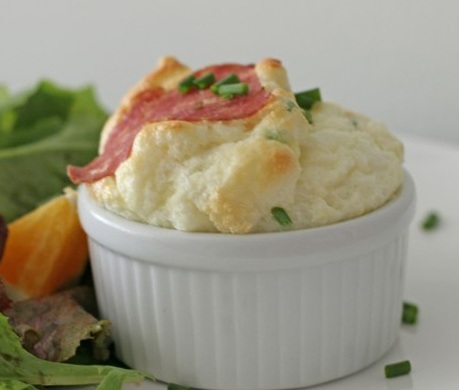 Dieting does not have to be boring and monotonous. Convert any recipe that we like in other low calorie only matter of imagination.
From here we suggest preparing a light cheese souffle, simple modification of the original recipe.
Ingredients (6 servings):
1½ cup cold milk
3 tablespoons cornstarch
1 tablespoon sunflower oil
100g low fat cheese wedge
100g low fat mozzarella
6 egg whites
¼ teaspoon saffron
Salt, pepper and nutmeg to taste.
Preparation:
First of all, prepare light white sauce with milk and cornstarch.
Next, place the batter in a bowl and add oil, nutmeg, salt and pepper. Stir with a wooden spoon.
Then add the saffron, stir it and let it cool.
Now cut the cheese wedge into pieces and grate it.
Cuts even the mozzarella and add it, along with two tablespoons cheese to the white sauce and reserve.
Beat the egg whites until stiff, add them to the sauce and mixed with stirring motion, so that the preparation is fluffy.
Brush with oil containers where you will put the souffle and pour the mixture into them.
Finally, sprinkle with the remaining grated cheese and
Bake until mixture is browned.
Presentation Tips:
It is ideal to accompany a grilled chicken or fish portion.
It takes about 1 hour to make.
It is very easy to cook and only has 160 calories per ration.