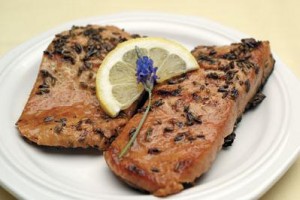 Ingredients
4 peeled garlic cloves
2 teaspoons of lavender flower leaves
¼ cup salsa soy
3 tablespoons honey
3 tablespoons lemon juice
1/3 cup olive oil
2 tablespoons sesame oil
4 fillets fresh salmon.
Preparation
In a bowl, mash the garlic and sprig of lavender flower. Add soy sauce, honey, lemon and oil and mix. Marinates the fillets in the sauce for half an hour. Cook the fillets on a grill or fireplace with the skin underneath for 8 minutes and be refresh with the marinated one. Then flip the fillets and cook for a minute.
It combines perfectly with asparagus with balsamic.