The Restaurant La Madia, located in the historic center Licata, and a good environment, welcoming atmosphere, characterized by an elegant room with trompe l'oeil on the walls.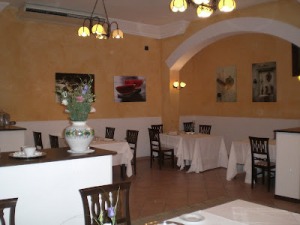 The cuisine is creative and mainly of sea, who wants to enhance and observe the true flavors and products of Sicily. All commodities have a season, not only fruit and vegetables but also meat and especially fish. Exaltation of the flavors in great harmony, illustration of comprehensive dishes without any leniency to pomposity, sober but elegant presentation and impact, respect and appreciation of the culture of the territory.
Among the specialties on the smoked haddock flavored with pizzaiola sauce, gnocchi with sepia on cream of fennel, orange-roasted tea with fried red mullet. The Restaurant La Madia, Licata located in the province of Agrigento, also has an impeccable wine list.
Address:
Corso Filippo Re Capriata 22
92027, Licata
Phone: (+39) 0922 771443