There is a Japanese restaurant in Barcelona whose business card cheats more than one…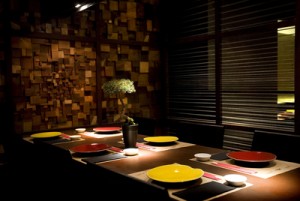 And if you read Kuo – Japanese Taberna it most likely will not come to mind a picture like this above. But this way it is Kuo, a different proposal. Not only in terms of restoration and in general, but in terms of Japanese food in general.
Located opposite the Galvany market in Sant Gervasi, Kuo is really less like a tavern than you can imagine. It is an idyllic place where the food and atmosphere go hand in hand. A tavern is dark, but in Kuo have a dim light and a master sushi, the work of Japanese chef's Haginoya Naoyuki and his team. And that is the Japanese tavern concept is definitely something more elegant and quiet of what it is for us…
The best thing about this place is that you can not adhere to a single adjective. We could talk about its sophistication, because the interior of the gala is doing great, but then we would ignore that exudes simplicity having the kitchen staff working at the front of the customers. Ideal for breaking down the barriers that still many have with oriental meals … And if you stand out for the quality of its food and its products, possibly more than one start thinking about prices. But, still, because Kuo is more than affordable.
A cuisine that combines the best possible classical oriental dishes, which are the basis (nigiri, sashimi, maki …), with the most Western flavors. As an example, we could try King Crab tempura with vegetables and fruits of the census, tempura scallops with foie and caramelized onion.
And all in the relaxed atmosphere of a zen garden giant…