Give an oriental touch to your super healthy meal with this delicious salad that has a very rich and original dressing.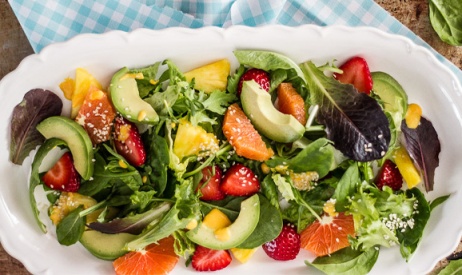 Ingredients (4 servings)
4 large handfuls mixed lettuces
1/2 cup strawberries, sliced
1/2 cup pineapple, thinly sliced
1 orange, cut into wedges
1 cup edamame
2 avocados, sliced
For the dressing
3 tablespoons white miso
1 small carrot, peeled and sliced
1 teaspoon ginger, grated
1/4 garlic clove
1 tablespoon honey
2 tablespoons mirin sauce
2 tablespoons rice vinegar
1/2 teaspoon sesame oil
1/4 cup olive oil
2 tablespoons water.
Preparation:
Combine all dressing ingredients in a blender. Blend until mixture is smooth and creamy. Pour into a container.
Mix the lettuce, strawberries, pineapple, orange and edamame in a large bowl. Stir well.
Just before serving, cut the avocado into slices and sprinkle with rice vinegar to prevent rust.
Place the avocado on the salad and sprinkle with sesame seeds.
Serve with carrot and ginger dressing.