The cuisine of the India is a colorful kitchen full of exotic flavors and intense able to love and strangers. The variety, attractive colors, natural, healthy ingredients and the explosion of flavors you get with each bite, they have become a favorite in any country.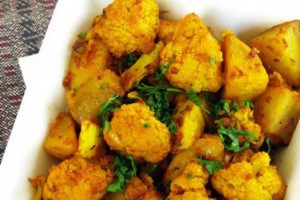 One of the classic recipes of Indian cuisine is the Aloo Gobi, a very light dish traditionally prepared as a starter but can be the perfect accompaniment to meat and rice.
Ingredients:
450 grams cauliflower into small pieces
450 grams potatoes
2 teaspoons olive oil
1 teaspoon cumin seeds
1 small to medium green pepper cut into small pieces
1 teaspoon coriander powder
1 teaspoon ground cumin
1 teaspoon chopped coriander leaves
½ teaspoons powdered saffron
¼ teaspoons chili powder
Pinch of salt.
Preparation:
Cut the potatoes into small pieces and place in a saucepan. Add water to cover the potatoes and let boil for 10 minutes. Drain the potatoes and place them on a separate plate or bowl.
Put a little oil in a pan and fry the cumin seeds for two minutes, until its begin to sizzle.
Add green chili cut into small pieces and fry all for another one minute.
Add cauliflower into small pieces and fry everything for another five minutes.
Then add the potatoes, all the spices and a pinch of salt and cook everything for 8-10 minutes, until vegetables are tender.
Add some cilantro on top of the mix and serve.
The Aloo Gobi can be eaten alone, accompanied by a light salad from tomatoes and onions or be the perfect side dish for any meat.