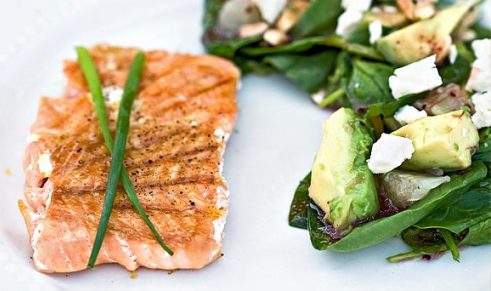 Delicious and super healthy dish to finish the week of light, healthy and delicious.
Ingredients (4-6 servings)
4 fillets salmon
1 tablespoon olive oil
1 teaspoon salt
1 teaspoon coriander seeds, crushed
1 teaspoon ground cumin
1 teaspoon paprika powder
1 teaspoon onion powder
1 teaspoon black pepper
For the avocado salsa
1 avocado, peeled and sliced
1 small red onion, sliced
3 red chillies, seeded, sliced
2 lemons juice
3 tablespoons olive oil
2 tablespoons cilantro, finely chopped
Salt, to taste.
Preparation
Combine the salt, coriander, cumin, paprika, onion and black pepper.
Spread the mixture over the salmon fillets drizzled with olive oil. Refrigerate for 30 minutes.
Preheat grill.
Combine avocado, onion, chiles, cilantro, lemon juice, olive oil and salt in a bowl. Chill until ready to use the sauce.
Handle the grilled salmon.
Serve the salmon topped with avocado sauce.