Do you love American pancakes? So do not cheat yourself for a visit at The Griddle Cafe on Sunset Blvd.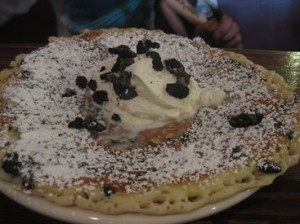 In a cozy atmosphere you will find here the most delicious pancakes. Apart from the regular pancakes with butter and syrup have instead some really exciting and different pancakes.
If you are four persons, so you can easily just order two pancakes. It is huge and saturates the whole game.
If possible make sure to visit The Griddle Cafe on a weekday, since that would like is queue far down the street on the weekends.
Most delicious pancakes: Black Magic (with Oreo cookies) and Blueberry. Be prepared that it may take time to choose – they have more than 25 different kinds of pancakes.