A refreshing and healthy low-calorie dish but with the great taste of a combination of fruit with delicious vinaigrette.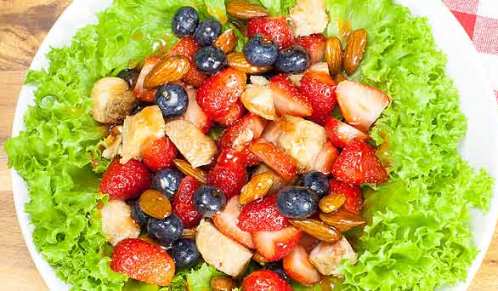 Ingredients
For the vinaigrette
½ cup balsamic vinegar
¼ cup honey
¼ cup olive oil
1 teaspoon reduced-sodium soy sauce.
For the salad
4 medium chicken breasts
4 garlic cloves, crushed
Salt and pepper, to taste
6 cups lettuce
1 cup strawberries, washed and sliced
1 cup mango, diced
1 cup pineapple, diced
4 clementines or 1 tangerine
Avocado, optional.
Preparation
Combine all vinaigrette ingredients in a small bowl until well combined. Save ½ cup in the refrigerator.
Pour the remaining vinaigrette on a shallow bowl with chicken and garlic. Let the chicken marinate for at least 1 hour. Season with salt and pepper, to taste.
Remove chicken from bowl and discard the marinade. Grill chicken until it is well cooked.
Filet lettuce and fruit. When chicken is done let cool slightly before slicing and arrange over salad.
Extracts the vinaigrette from the refrigerator and serve over the salad.