The Bolognese sauce is perhaps one of the world's most popular sauces. However, the authentic Bolognese recipe is a secret that very few knew far.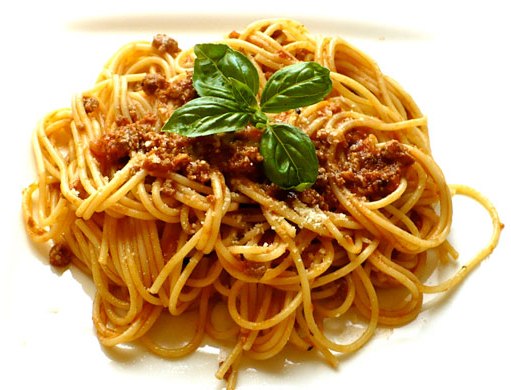 Recently there was a peculiar contest that drew more than 450 chefs from over 450 Italian restaurants around the world to cook in unison one of the most popular dishes of Italian cuisine: spaghetti bolognese.
The aim of this unique initiative was none other than to show the world how it is made the authentic original Bolognese sauce.
The initiative came after years of claim during which many Italian cooks have complained bitterly of distortion that has led to this recipe because of its enormous international popularity.
This step cooks the nearly 500 participants in the event have tried to rescue the integrity of this classic sauce using the original ingredients of the recipe, which were authenticated in 1982 by the Chamber of Commerce of Bologna, Italy. The result is reflected in the following recipe:
Ingredients for 4 people
1 kilo minced beef
6 slices pancetta (bacon) cut into small pieces
2 teaspoons olive oil
2 large onions cut into small pieces
3 crushed garlic cloves
2 carrots cut into small pieces
A piece of celery
2 cups medium/large red wine
800gramos tomatoes, peeled and cut into chunks. If not used natural tomatoes, 2x400g canned chopped tomatoes
2 sheets of fresh or dried bay
Pinch of salt and black pepper
800g-1kg of spaghetti or tagliatelle
A pinch of grated fresh Parmesan cheese to accompany.
Preparation Method
Heat oil in a large pan and fry the bacon over medium heat until golden.
Add cut-up onions and garlic, also in very small pieces. When the onions and garlic are golden, add the mince.
Once the meat has acquired a brown color, add the wine and reduce the degree of cooking on low until a third of the wine is consumed.
Then add the tomatoes and diced celery.
Put the heat to a very low temperature, partially cover the pan and allow the mixture to cook for about an hour, stirring occasionally until you get a thick sauce.
Cook pasta in plenty of water and a pinch of salt. Once cooked pasta, divide it into the dishes to use and adds a bit of parmesan directly over pasta.
Finally, add sauce to each plate and provides the finishing touch with a little more Parmesan cheese and a pinch of black pepper.
Sure, when you try this recipe you will notice the difference and will refuse imitations!