A delicious vegetarian meal that will keep you full for a long time and leave you with a great taste.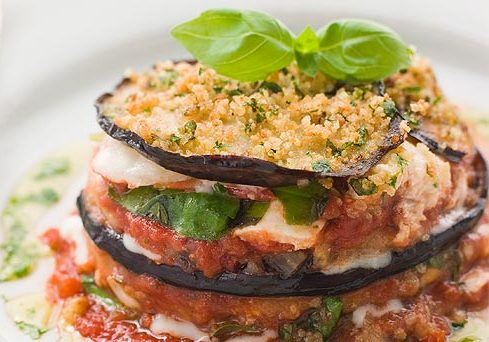 Ingredients (4-6 servings)
For the eggplant
500 grams of eggplant, sliced
1½ teaspoons sea salt
170 grams white bread, chopped
42 grams Parmesan cheese, grated
Pinch of salt
1 teaspoon pepper, divided
¾ cup flour
3 large eggs
3 tablespoons vegetable oil.
For the tomato sauce
600 grams tomatoes, diced
1 tablespoon extra virgin olive oil
2 garlic cloves, minced
¼ teaspoon dried pepper
¼ cup fresh basil leaves, chopped
Salt and pepper, to taste
110 grams mozzarella cheese, grated
14g Parmesan cheese, grated
Fresh basil leaves, for garnish.
Preparation
To prepare the eggplant slices combined with sea salt in a large bowl. Transfer to a colander and fit it over the same bowl. Let stand until the eggplants have released at least 1 tablespoon of liquid, 30 to 45 minutes.
Arrange eggplant slices on a paper towel, cover with more towels and press firmly to remove as much liquid as possible. Clean excess salt.
While eggplant is draining ribbed baking tray in the oven and preheat to 218º C.
Press bread in a food processor to form small crumbs (about 15 pulses of 1 second). You should end up with approximately 3 cups.
Transfer bread crumbs to a bowl and mix with the cheese, salt and ¼ teaspoon pepper. Separate.
Combine flour and ¾ teaspoon pepper in a large resealable plastic bag, shake to combine. Beat eggs in a shallow pan. Put half of the eggplant slices in the bag, seal and shake to cover. Take the eggplants from the bag and remove the excess flour. Dip in the egg. Top with breadcrumb mixture and fits on a rack. Repeat with the remaining eggplant slices.
Remove the baking sheet from the preheated oven. Add vegetable oil. Put the breaded eggplant slices on baking sheet in a single layer. Bake until golden brown and crispy, about 30 minutes, rotating the pan after 10 minutes, and flipping eggplant after 20 minutes. Do not turn off the oven when eggplants are ready.
Prepare tomato sauce. Process half of the tomatoes in a food processor for 5 seconds, or until almost tender. Heat the olive oil, garlic and dried pepper in a medium saucepan over medium-high heat, stirring occasionally, until garlic is lightly browned, about 3 minutes. Stir in tomatoes and processed the rest of the diced tomatoes. Bring to boil and lower heat to medium-low. Boil over low heat, stirring occasionally, until it is slightly thick, about 15 minutes. Stir in basil and season with salt and pepper, to taste.
Spread ½ cup sauce in the bottom of a baking dish. Top with half of the eggplant slices. Add another ½ cup of sauce. Sprinkle half the Mozzarella cheese. Add another layer with the remaining eggplant and ending with remaining sauce. Sprinkle with Parmesan cheese and remaining Mozzarella. Bake until it begins to bubble and the cheese is golden, 13 to 15 minutes.
Allow to cool for 10 minutes, garnish with basil and serve.