If you are in London and looking for a place to eat well without breaking the bank, the Bar Boulud might be for you.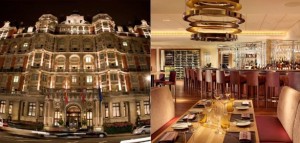 Despite appearances can deceive the restaurant, "twin" of the one in New York City, has human price (you can see it online), and enjoy a bit 'of everything: mainly French cuisine, but also Iberian specialties or good old burger and fries.
The "bar" is on the ground floor of the luxurious Mandarin Oriental Hyde Park Hotel, Knightsbridge, and is open daily for breakfast, lunch and dinner. And 'reservations are recommended and a casual dress – in short, do not show in shorts and a backpack!