This classic French sandwich is perfect for breakfast, combining traditional flavors that you'll love…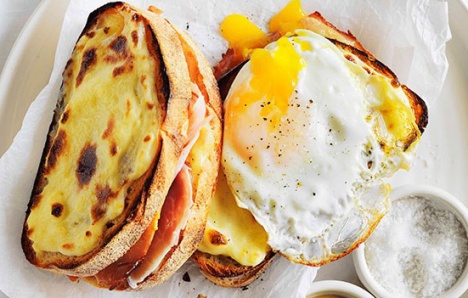 What do you need?
For 4 servings:
8 slices bread
1/3 cup Dijon mustard
4 thick slices of ham leg
300 grams of gruyere cheese, grated
100 grams butter, chopped
4 eggs.
For the bechamel sauce
60 grams butter, chopped
60 grams flour, sifted
1 cup milk
30 grams parmesan cheese, finely grated
A pinch of nutmeg, finely grated.
Preparation:
To prepare the bechamel sauce melt the butter in a small pan at medium heat, add the flour and heat until brown (1 to 2 minutes), remove from heat. Heat the milk in another pot over medium-high heat until it begins to simmer, and then enter the milk to butter mixture, stirring constantly. Return the mixture to heat and stir until boiling again. Incorporates the parmesan and nutmeg. Remove from heat, covered with plastic and spreads until it has thickened and cooled.
Arms the sandwiches smearing the bread with mustard and putting ham and gruyere in the middle.
Preheat grill to high heat. Melt half the butter in a large skillet over medium heat until it begins to bubble. Add sandwiches to the pan and heat, turning once, until golden.
Remove from the Pan, spread the top bread with bechamel sauce and put them in a pan to bake and handle until it is golden.
Heat the remaining butter in a large skillet and prepare fried eggs. Put one egg on each sandwich and serve hot.