Do you already have prepared caramel recipe? Now eat it with exquisite pieces of walnut crepes and dessert for a delicious and very Mexican.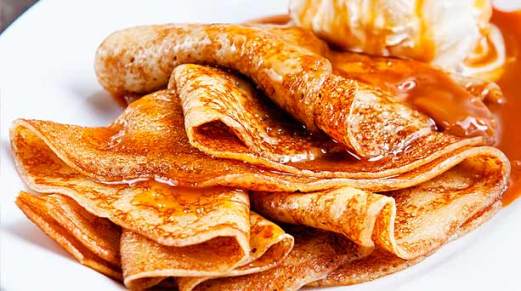 Ingredients (6 servings)
1½ cups milk
1 cup flour
2 eggs
1 tablespoon oil
¼ teaspoon salt
2 teaspoons sugar
Cajeta
Chopped walnuts.
Preparation
Blend milk, flour, eggs, salt and sugar in a blender.
Heat oil in a small frying pan.
Serves some batter into the pan, making sure to cover the entire pan, heat for 45 seconds, until lightly browned underneath. Repeated with the remaining mixture.
See accommodating crepes on a greased bowl, bending them in four.
In a small saucepan heat the caramel with a little milk until desired consistency, without boiling.
Pour the caramel sauce over the crepes and sprinkle with chopped walnuts.
Serve immediately.