Enjoy dessert with the combination of all preparing this succulent and delicious cranberry and apple pie.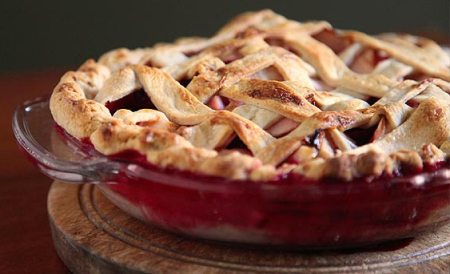 Ingredients
7 Apples
340 grams fresh blueberries
¾ cup brown sugar
¼ cup flour
1 teaspoon cinnamon
¼ teaspoon salt
½ lemon juice
Pie dough
1 egg, beaten with 1 tablespoon water
Granulated sugar, for dusting.
Preparation
Peel and cut the apples into thin slices. Add them to a large bowl and sprinkle with lemon juice.
Stir in cranberries, brown sugar, flour, cinnamon and salt. Stir to combine well.
Arrange the pie dough in the pan. Add the apple mixture. Cover with the remaining pie dough and seals the edges.
Cut 4 stripes on the cover of mass to create ventilation. Spread with beaten egg and sprinkle with sugar.
Bake in a preheated oven at 218°C for 20 minutes. Lower the temperature to 190°C and continue bake for 45 minutes more. Cover the edges with foil if they begin to brown too quickly.
Let cool slightly and serve.