Time should not be an excuse to eat healthily. Salads are a great ally when our time is short; simply combine different fruits and/or raw vegetables to serve on the table. A couscous salad with cabbage and carrot, is our today proposal.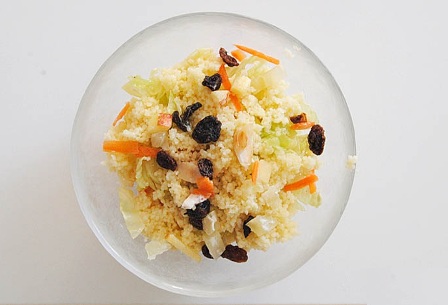 We could have used only cabbage and carrot and incorporate, as we have done, some nuts to complete the salad. But we decided to add one more ingredient: couscous. Cooked in 8 minutes and gives a warm touch to this salad did not want to miss.
Ingredients
Half cup couscous
80 gm cabbage
1 carrot
8 sultanas
8 chopped almonds
Extra virgin olive oil (or yogurt)
Salt and black pepper to taste.
Preparation
Wash the vegetables and cut the cabbage into strips. We do the same with carrot and mixed vegetables in a bowl or dish.
Cook couscous as recommended by the manufacturer. Than usual often pour a half cup of water (the same volume of couscous) in a saucepan and bring to a boil, off the heat, and for three minutes, cooking the couscous.
We incorporate couscous, sultanas and almonds to salad.
Water with a little bit of extra virgin olive oil or low-fat yoghurt, salt and pepper to taste.