Here we bring you the recipe for the Choux pastry.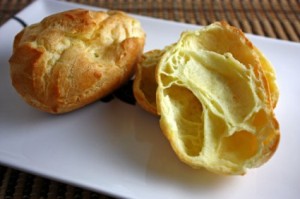 Ingredients
250ml water
5 eggs
100 grams of butter
150 grams of flour
1 pinch of salt
1 pinch of sugar.
Choux pastry Preparation
Preheat oven to 200° C. In a saucepan place the water, butter, salt and sugar to boil. Remove from heat and add all the flour. Put back on the fire and mix continuously until you have a smooth dough that comes off of the pan.
Let cool slightly add 4 eggs one at a time, stirring very well.
Place dough in a pipe and make the choux any way you want.
Paint the choux with egg beaten with a little water.
Place in the oven for 20 minutes.
Let cool and filled with whipped cream, pastry cream, chocolate, pate, tuna salad or ham.