Simply delicious! A scrumptious dessert that will fill with energy.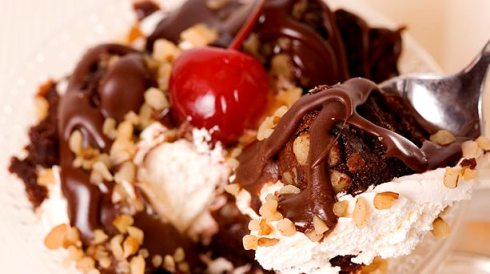 Ingredients
6 squares chocolate brownie
¼ cup hot chocolate liquid
1 cup vanilla ice cream
2 tablespoons chopped salted nuts
6 cherries
1.5 ounces semisweet baking chocolate
1 ounce unsweetened chocolate
¾ cup butter
3 eggs
1 cup sugar
1 cup flour cake
1 teaspoon salt
1 teaspoon baking powder
2 teaspoons vanilla.
Preparation
Preheat oven to 180°C.
Prepare a mold approximately 33×22 cms with butter and flour.
Melt chocolate and butter over water bath and let cool.
In a small bowl beat the eggs and sugar until they are light in color and add them to the chocolate mixture.
In another bowl mix flour, salt and baking powder, add to the chocolate mixture along with vanilla and nuts.
Pour into pan and bake for 25-30 minutes. Let cool and cut into squares.
Preparation of Sundae
Place 3 squares Brownie in one of two serving plates.
Covers each square with a small scoop of ice cream.
Add the chocolate liquid and sprinkle with the remaining nuts.
Finish by adding a cherry to the top.