A delicious super professional dessert that will make you look like the best chef in the family.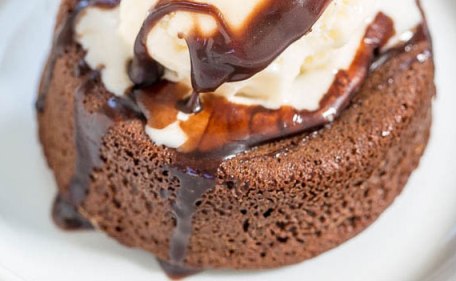 What do you need?
60 grams of semi-sweet chocolate confectionery
1/4 cup unsalted butter
1/2 cup powdered sugar
1 egg + 1 egg yolk
3 tablespoons flour
1 teaspoon of instant coffee granules
Ice cream, to serve.
Preparation:
Preheat oven to 218° C and sprayed two ramekins with cooking spray. Put the ramekins on a baking sheet. Separates.
Combine the chocolate and butter in a bowl and heat in microwave until melted, about 1 minute. Stir until it is smooth return to the microwave for 15 additional seconds, where necessary.
In bowl of chocolate add sugar, egg and yolk, and stir until smooth. Add flour and instant coffee stirring until combined.
Pour into two ramekins, distributing evenly.
Bake for 12 minutes or until the shores have come off but the center is still soft. Be careful not to over bake.
Let cool in the ramekins for 1 minute. After slightly off the edges with a butter knife and invests on dishes to serve.
Serve with ice cream.