The deep flavor of pork tenderloin is further intensified by a combination of honey, lemon and a hint of chipotle.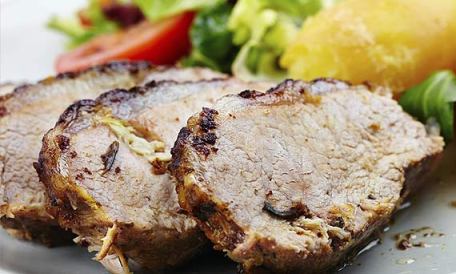 What do we need?
A whole pork tenderloin, about 500 grams
1 teaspoon lemon zest
½ cup lemon juice
¼ cup honey
1½ teaspoons coarse salt
2 garlic cloves, minced
1 chipotle chile in adobo
1 teaspoon vegetable oil
1 tablespoon fresh cilantro, chopped.
Preparation
Put lemon zest and juice, honey, salt and garlic in a small jar with lid and shake well to combine.
Pour half the mixture into a resalable plastic bag, add the chipotle and stir well.
Add pork tenderloin to bag and seal, removing as much air as possible. Marinates in the refrigerator for 6 to 24 hours by turning the bag in half the time.
Put the rest of the marinade in a covered container and refrigerate until want it to use.
Light the grill and heat to medium-high heat. Grease with vegetable oil.
Remove the tenderloin from the bag and place in the center of the grill. Discard bag with marinade. Cover and heat 12 to 15 minutes, turning every few minutes, until the back get an internal temperature of 68° C.
Removes the back of the grill and let it sit for 10 minutes. Pass it to a cutting board and slice.
Sprinkle with the remaining marinade. Garnish with cilantro and serve.