It's time to dust off your grill and prepare some delicious and super nutritious chicken skewers marinated with garlic and lemon.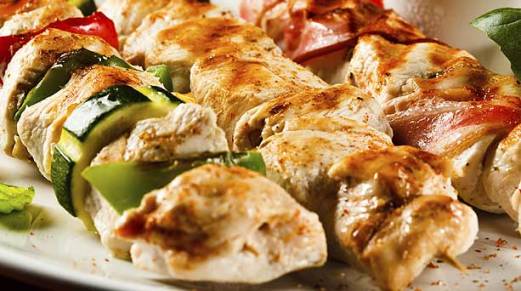 Ingredients (4 servings)
For chicken
1/3 cup extra virgin olive oil
1 lemon zest
2 tablespoons garlic, minced
2 tablespoons fresh parsley, minced
2 teaspoons salt of grain
1 teaspoon ground black pepper
1 kg chicken breast, boneless and skinless, cut into small pieces.
For vegetables
1 lemon juice
½ cup olive oil
2 large red peppers, cut into small pieces
1 large red onion, cut into small pieces.
Preparation
In a bowl combine olive oil, lemon zest, garlic, parsley, salt and pepper. Add chicken and stir to combine. Cover the bowl with plastic wrap and refrigerate for 2-8 hours.
Preheat broiler.
In a small bowl combine ½ cup olive oil, lemon juice, salt and pepper. Separate. Insert onion and red pepper in the sticks to skewer, alternating the pieces and dividing them equally. Remove chicken from the marinade and insert it into sticks to skewer, with careful not too the parts together.
Arrange the skewers on the grill grate. Spread the vegetables with the oil and lemon mixture. Cover the grill and heat until chicken is completely opaque and vegetables are tender and beginning to brown, 8 to 12 minutes.
Serve immediately.